Double Your Knowledge, Double Your Fun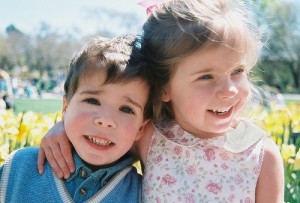 I spoke to a wonderful gathering of moms and dads at the Paradise Valley Mothers of Multiples Club in Phoenix, Arizona. After I concluded my talk and answered questions, many of the participants approached me to thank me for the eye-opening and thought-provoking presentation.
The importance of alone time seemed to make a definite impression. The onslaught of hype about twin togetherness confuses the most conscientious parent into believing that twins do not want to be separated from their siblings. Often parents are a bit shocked when I relegate the twin-twin connection to a secondary tier.  Special time alone with mom and dad is one of the greatest gifts you can give to yourself and each twin in terms of maximizing the most important relationship—the parent-child connection.
So, why do parents of multiples not think about alone time as a priority?  Parents of multiples are quick to comment about how easy it is to be with just one child at a time. They remark that the absence of fighting and bickering is a welcome respite. I believe the answer to this puzzling conundrum is that parents seem convinced that twins do not want to be separated. One mom asked me if she should ask her five-year-old twins if they want to be on separate sports teams. I jokingly shared that because my twins were my last children, I did not hesitate to make decisions that I felt were in their best interest. I do recognize that it is extremely difficult for first-time parents to implement rules and structure that engender protest and anger in their children. Moreover, parents may also receive unsolicited judgments and critical comments from strangers and family members who will question their decision to separate the twins. Resisting mainstream thinking requires strength of conviction and commitment.
A number of moms thanked me for bringing up a sensitive subject—the guilt and shame that parents can feel if they believe they should love each twin equally. I remain convinced and validated that parents can be more effective setting limits and boundaries and making decisions for their twins if their hearts and minds are at peace with the importance of having an authentic, not equal, relationship with each child.
Naturally this led into my discussion of fair and equal: life is not fair and twins are not equal. Coaches and teachers are often reluctant to acknowledge one twin's accomplishment if the other has not achieved the same goal. Sadly, in this scenario, the twin who has earned her accolade cannot be celebrated and is cheated out of enjoying her success. I stressed the importance of building resilience into our twins rather than struggling to create exact equality. I mentioned that parents who feel committed to equalize situations for their twins will not raise a secure child or prepare him for the realities of life as he gets older.
Finally, I talked about not getting seduced by the twin caretaking dynamic. I specifically highlighted this issue because the majority of attendees were parents of boy/girl twins. In my experience, more often than not parents describe their daughters as dominant, maternal, and controlling. Whether this is due to identification with the mother or simply the result of faster cognitive development in young girls, I want to alert parents should this interaction become burdensome or smothering for the male twin. As a boy matures, he will find his own way to cope with his sister's attentions—unwanted or otherwise.
As always, I struggle with finding equilibrium between educating and instilling fear about the what ifs in twins' emotional development. While it is not my intention to frighten parents, I believe that raising awareness about twin challenges will help parents make informed decisions and lead to their twins having secure individuated identities and healthy attachments.
"Twins" by threelittlebirdsphoto is licensed under CC BY-ND 2.0